Takeaways from Seahawks 26-23 overtime loss to 49ers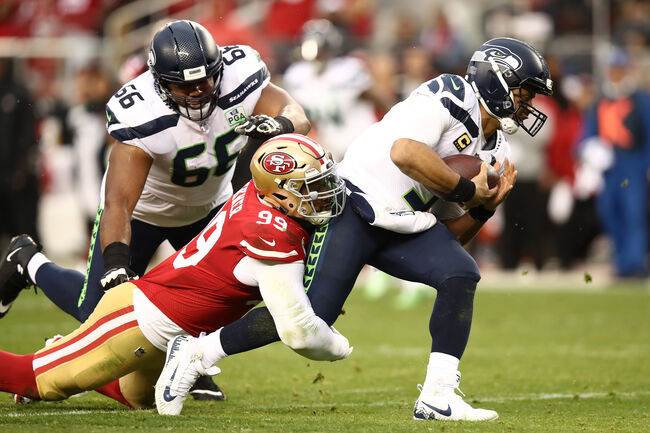 A 10-game winning streak against the San Francisco 49ers came to an end in Santa Clara on Sunday, forcing the Seahawks to wait at least another week to secure a return trip to the NFL postseason.
Robbie Gould's 36-yard field goal in overtime gave the 49ers a 26-23 victory and kept Seattle from the win they needed to secure a seventh playoff appearance in 10 seasons under head coach Pete Carroll.
The Seahawks still remain in strong position to eventually secure that playoff berth, but with a game against the Kansas City Chiefs looming next Sunday it may take Seattle until the final week of the season - unless they get some help - to ultimately get there.
"It was a really important championship opportunity for us and there's some huge lessons for our team and we've got to make sure we can't hurt ourselves," Carroll said. "When that happens, it's hard to overcome and we didn't today."
Seattle out-gained the 49ers, were far more effective on third down, had an eight-minute edge in time of possession, won the turnover battle and scored more touchdowns, but still came up short against their divisional rival. It was the first victory by the 49ers over Seattle since the second meeting between the two games in San Francisco in 2013, which was the last meeting between the two teams at Candlestick Park. The Seahawks would win the NFC Championship game over the 49ers a month later and win every game between the two teams since then until Sunday.
So why were the Seahawks unable to beat the 49ers? Penalties were a big reason and it's where we start our takeaways from the 26-23 loss in the Bay Area.


1. Penalties proved tremendously costly.
The Seahawks were assessed 14 penalties for a franchise-record 148 yards against the 49ers on Sunday.
Several penalties in the fourth quarter and overtime thwarted scoring opportunities that would have potentially allowed the Seahawks to escape with a victory. Instead, the penalties proved significant enough to keep giving the 49ers the chances they needed to take home the win.
"This was really a clear game that we just hurt ourselves so much with this penalty thing that it just took our chances away," head coach Pete Carroll said.
Seattle was called for five offensive holding penalties, two defensive pass interference penalties, an offsides, a neutral zone infraction, a defensive holding, illegal block in the back, unsportsmanlike conduct and unnecessary roughness.
Two holding calls against Ethan Pocic, a hold on Germain Ifedi, illegal block in the back by Malik Turner on a punt and a pass interference call against Shaquill Griffin all came inside the final three minutes of regular and the overtime period. That's 55 yards in penalties in critical parts of the game.
"Really uncharacteristically we had 148 yards in penalties and 10 in the second half, which is just crazy. I don't know how that could happen," Carroll said.
The 148 penalty yards are the most ever allowed by the Seahawks in a single game, surpassing the 145 yards in penalties allowed by the 1979 team on Dec. 8, 1979 against the Denver Broncos.
The Seahawks have routinely been one of the most penalized teams in the NFL during Carroll's tenured as head coach. They entered Week 15 as the third-most penalized team in the league behind the Kansas City Chiefs and Buffalo Bills.
The most questionable calls were the pass interference decisions against Griffin and Delano Hill. Griffin appeared to make a clear defense of a pass to Trent Taylor. Replays did not clearly show whether he tugged on Taylor as he made his break at the top of his route.
Hill was called for a pass interference against tight end George Kittle that involved hand fighting from both players, though Hill tugged on Kittle's shoulder at one point in the play with the ball in the air.
The holding penalties against Pocic scuttled the final drive of regulation and Seattle's only drive of overtime. Pocic was playing in place of an injured Jordan Simmons, who left the game in the third quarter.
In a close game, the penalties were enough to sink the Seahawks chances.
2. Bradley McDougald, Jordan Simmons knee injuries significantly hurt Seattle's chances.
Safety Bradley McDougald and right guard Jordan Simmons were both forced from Sunday's game due to knee injuries.
After forcing a fumble early, McDougald was sidelined in the second quarter after a fairly innocuous looking play. McDougald was in coverage against Kittle on a third-and-8 early in the quarter. He left the game after the play and did not return with no apparent issue happening on the field.
Carroll said after the game that McDougald's knee flared up on him. He had been questionable to play due to a knee issue that has bothered him over the last two months or so. Carroll referred to the issue as patella tendonitis.
With McDougald out, the 49ers took advantage of a couple apparent coverage breakdowns, including on a 41-yard touchdown pass to Garrett Celek.
Meanwhile, Simmons was forced to the sidelines late in the third quarter. He was engaged in a block of DeForest Buckner when it appeared lineman Jullian Taylor may have fell on the back of his leg.
Carroll called the injury a first-degree knee sprain after the game.
With Pocic in the game in place of Simmons, Seattle's offense had far more difficulty playing clean football. Pocic's two holding penalties against 49ers first-round pick Solomon Thomas proved extremely costly. Seattle was near midfield on their final drive of regulation and in sight of a potential game-winning field goal try. The hold in overtime negated a 32-yard third down completion to J.D. McKissic.
The injury to Simmons proved far more significant than the one to McDougald. After the Celek touchdown, the 49ers would not reach the end zone the rest of the game as Seattle's defense managed to firm up in the red zone. However, Pocic's penalties and struggles on the line caused many problems for the offense.
Simmons was starting because D.J. Fluker was out with a hamstring strain. It's uncertain whether either Fluker or Simmons will be available next week against the Kansas City Chiefs, which could prove problematic for Seattle's offense.
3. Special teams issues surface at a bad time.
After getting an opening touchdown to take the lead, Seattle immediately gave it back to the 49ers.
First, Sebastian Janikowski missed the extra point to make it only a 6-0 lead instead of a 7-0 advantage. That point given away may have made all the difference at the end of the game. Second, Seattle then allowed Richie James to take the ensuing kickoff back 97 yards for a touchdown to immediately take a 7-6 lead.
Janikowski has been shaky at times this season, though he did convert his other two extra point tries and a 48-yard field goal in the game.
The 49ers would score just one offensive touchdown in the game with four Robbie Gould field goals supplementing their scoring effort. That's an eight-point swing on special teams along. Throw in an unsportsmanlike conduct penalty on Neiko Thorpe and an illegal block in the back on Malik Turner and that's two more big penalties absorbed by the Seahawks on Sunday.
Tyler Lockett also nearly made a critical mistake as he muffed the kickoff to begin overtime. The ball ricocheted into peril and led to Lockett taking a huge hit back at Seattle's own 14-yard line.
Michael Dickson was tremendous again in the punting game, pinning two punts inside the 49ers' 5-yard line and averaging 44.5 yards on eight punts. But the mistakes on special teams helped allowed the 49ers earn the win.
4. Jarran Reed is having a monster season.
With Cliff Avril and Michael Bennett gone this season, the need for pass rush production from other sources was clearly going to be one of the biggest keys to Seattle's remade defensive unit.
While Frank Clark has primarily carried the load, recording 12 sacks through 14 games this season, the production of Jarran Reed from the interior cannot be overlooked.
With two sacks against the 49ers on Sunday - both coming in key situations late in the fourth quarter - Reed now has 8.5 sacks on the season for Seattle. If he can get to 10 sacks, he would become just the third defensive tackle in franchise history to have a double-digit sack season.
The other two players to accomplish the feat are both Hall of Famers.
John Randle had 11 sacks in his first season with the Seahawks in 2001. Cortez Kennedy had 14 sacks during his Defensive MVP season in 1992.
Reed is 1.5 sacks shy of reaching 10 sacks with two games remaining.
Reed had already become a tremendous run stopper in his first two seasons in the NFL. Now he has shown he can be a force as a pass rusher from the defensive interior as well. Players that can do both from the middle of the defensive line are a rare commodity.
In addition to the two sacks, he also had four total hits on 49ers quarterback Nick Mullens.
5. Doug Baldwin is pretty important to the Seahawks offense.
Russell Wilson had one of the worst statistical passing days of his career a week ago against the Minnesota Vikings, recording career-lows in passing yards and passer rating.
Against the 49ers on Sunday, Wilson completed 23 of 31 passes for 237 yards with a pair of touchdowns to Doug Baldwin.
Baldwin didn't play against the Vikings. He did play against the 49ers.
Now, it's not that simple. Baldwin's return was important, but it wasn't the only reason for Seattle's improved passing game production. Nevertheless, it's clear how big a cog Baldwin is for the Seahawks offense to function at a peak level.
Baldwin caught four passes for 77 yards and two touchdowns against San Francisco. His presence on the field not only gives Wilson his favorite target to throw to, but it also focuses more attention his direction and creates more space for the rest of Seattle's passing game to work.
Baldwin has dealt with five separate injuries this season: right knee, left knee, right elbow, hip and groin issues have all plagued him this season and forced him to miss three games. And while Baldwin is not having his best season as a Seahawk - with injuries playing a big role - his presence can't be discounted.
After going his first seven games this season without reaching the end zone, he's scored in three of his last four games and put together his first multi-touchdown game of the season.
Photo Credit: SANTA CLARA, CA - DECEMBER 16: DeForest Buckner #99 of the San Francisco 49ers sacks Russell Wilson #3 of the Seattle Seahawks during their NFL game at Levi's Stadium on December 16, 2018 in Santa Clara, California. (Photo by Ezra Shaw/Getty Images)