2018 Seahawks Schedule Announced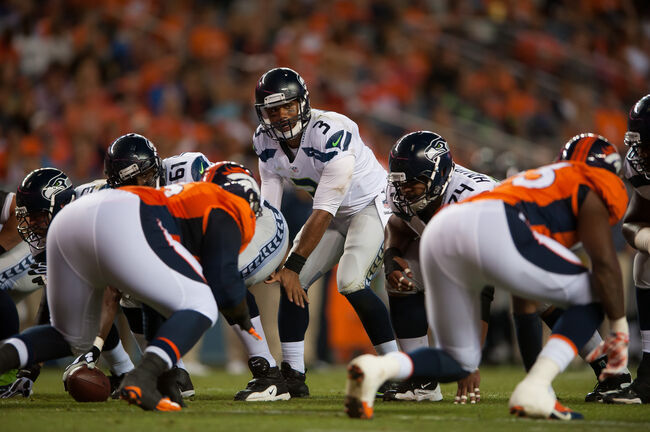 While the opponents had been known for months already, the order and dates of the 2018 NFL schedule were announced Thursday evening.
The Seahawks have five prime-time games scheduled with two traditional 10 a.m. starts and their first international regular season game in London against the Oakland Raiders. Seattle will open on the road for the first two weeks of the season and will play five of their first seven games away from CenturyLink Field. However, that means they will also have four of their final five games at home to close out the year.
The Seahawks schedule is as follows:
Preseason
Day Opponent Time (PT) TV
Week 1 Indianapolis Colts TBD Q13 FOX
Week 2 at Los Angeles Chargers TBD Q13 FOX
Week 3 at Minnesota Vikings TBD Q13 FOX
Week 4 Oakland Raiders TBD Q13 FOX
Regular Season
Day Date Opponent Time (PT) TV
Sunday Sept. 9 at Denver Broncos 1:25 p.m. FOX
Monday Sept. 17 at Chicago Bears 5:15 p.m. ESPN
Sunday Sept. 23 Dallas Cowboys 1:25 p.m. FOX
Sunday Sept. 30 at Arizona Cardinals 1:05 p.m. FOX
Sunday Oct. 7 Los Angeles Rams* 1:25 p.m. FOX
Sunday Oct. 14 at Oakland Raiders 10:00 a.m. FOX (London)
Sunday Oct. 21 Bye Week
Sunday Oct. 28 at Detroit Lions* 10:00 a.m. FOX
Sunday Nov. 4 Los Angeles Chargers* 1:05 p.m. CBS
Sunday Nov. 11 at Los Angeles Rams* 1:25 p.m. CBS
Thursday Nov. 15 Green Bay Packers 5:20 p.m. FOX/NFLN
Sunday Nov. 25 at Carolina Panthers* 10:00 a.m. FOX
Sunday Dec. 2 San Francisco 49ers* 5:20 p.m. NBC
Monday Dec. 10 Minnesota Vikings 5:15 p.m. ESPN
Sunday Dec. 16 at San Francisco 49ers* 1:05 p.m. FOX
Sunday Dec. 23 Kansas City Chiefs* 5:20 p.m. NBC
Sunday Dec. 30 Arizona Cardinals* 1:25 p.m. FOX
* Game time subject to NFL Flexible Scheduling
Photo Credit: DENVER, CO - AUGUST 07: Quarterback Russell Wilson #3 of the Seattle Seahawks waits for the snap as he runs the offense against the Denver Broncos during preseason action at Sports Authority Field at Mile High on August 7, 2014 in Denver, Colorado. (Photo by Dustin Bradford/Getty Images)