Men In Kilts Fundraiser for the Ronald McDonald House
Vote for Ian, Jason and Jerry!!!! Each vote is $25 and helps sponsor one night of housing for a family at the Ronald McDonald House ... CLICK HERE FOR MORE INFORMATION
Meet these brave and valiant gentlemen donning kilts to raise money for the Seattle Ronald McDonald House® and those families who call it home. Pick your favorite and cast your vote as many times as you like. Voting is open from May 1- May 15 and upon the conclusion, the 2014 "King of the Kilt" will be crowned.
Each vote is $25 and helps sponsor one night of housing for a family.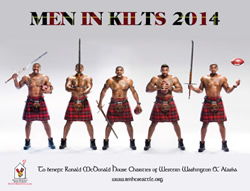 Men in Kilts Calendar $15
The Men in Kilts contest ends on May 15, but you can keep these brave men by your side all year long with a Men in Kilts calendar! This standard wall calendar measures 11"x17" when opened and runs from July 2014 through December 2015. Delivery by June 1.